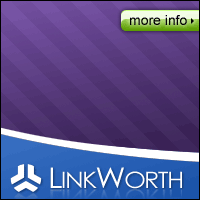 LinkWorth is one of the websites that I've been using from the beginning of blogging and I got my first paid to review opportunity from LinkWorth. Now LinkWorth got some of the most confusing user interface and it's harder to know what to do and where to go? There's not much linkworth reviews online to read and this is why this gem is still getting un-noticed by majority of the bloggers who want to make money online.
LinkWorth could be a good source of revenue if you use it correctly. LW is actually the complete pack of money making for publishers. They have text link ads, banners, paid links, banners and paid reviews.
Sign up for LinkWorth and you can then add your website/blog. Now if you add a blog, you will only get paid to review opportunities, so it's better to add your blog as "Add a website"
By submitting your blog as a website, you will have all of the advertising opps from linkworth. Now wait until LW reviews your site and they will approve your blog.
WordPress Plugin for LinkWorth Ads
If you are using wordpress to run your blog, then you can use the LinkWorth wordpress plugin to automatically add advertisements. You can serve paid links on your sidebar listed under "LinkWoth Partners"
You can serve LinkMura which runs on specific pages of your website (Added automatically with the plugin)
Another great product from linkworth is the LinkWords which is a contexual keyword ad. The ads are generated automatically reading your content. This way you don't have to give extra space for ads.
30/70 split or 50/50 prefered partner?
You can set 30/70 split (default) which will earn you 70% of the revenue, giving 30% to linkworth. If you chose 50/50 split, then linkworth will work to search advertisers for your website. I prefer the 50/50 split and this way I got many advertisers to advertise on my blog.
Get paid via check from LinkWorth
Unlike any other websites, LinkWorth has the option of payment through PayPal + they also pay via check. The minimum payout with paypal is $25 and minimum check payout is $100.
Make money with LinkWorth through the affiliate program
You can also earn money online by referring people to use linkworth. With the affiliate program, you can make upto $50 per signup. Go and sign up for LinkWorth.
Have your say
Do you use LinkWorth to earn money online? Do you use any other contexual ad services? What do you think?